I have struggled with what to do with my windows since I was "making" my first home. I have been a fervent believer that nothing is better than something bad, and so my windows have routinely remained for the most part naked. While there's nothing wrong with embracing the modern sensibility that less may really be more, during my husband's and my recent master bedroom renovation, I spent hours searching for the perfect window coverings. With this opportunity for a clean slate, I needed something fresh and exciting – something that would match the rebirth that our room underwent.
In my holy southern city of Charleston, South Carolina, plantation shutters reign supreme, and for most southern homes, they are a perfect fit. Throughout our renovation though, we employed a modern, industrial design aesthetic. During my search, I kept running into what I like to call "traditional tragedies," when it came to window coverings. If there was ever anything romantic about an old factory or an abandoned warehouse, that romantic notion was the feeling I wanted to evoke in our room. Clearly plantation shutters were not going to work.
When I looked at how to cover our windows, I thought of a few different factors:
What are my needs for light filtration and privacy?
Do I want the eye to be drawn to the window, or do I want the window to melt into the wall?
Do I need this window to be covered, or will this decision be made solely from an aesthetic point of view?
I'm on a budget. Which windows are the ones that would benefit most from a "full" window treatment versus the windows that would be fine with a more minimalistic [read: economic] approach?
Imagine this twenty-something's surprise, when the results from my rigorous field test [read: intense online search] came back, naming curtains as the most functionally sound and aesthetically coherent option for my windows. Curtains: those things I watched my mother stencil apples onto, which still hang over her sink in the kitchen; those things that require sewing machines or laborious hand stitching; those heavy pieces of fabric that seem to stick to the wall after a few years, cementing your design style of yesteryear to your everyday experience; those superfluous badges of "doneness" for rooms and spaces, giving me a false sense of accomplishment. And, let's not even get started on the cost! Were these the curtains that would truly bring whimsy and romance into my new retreat?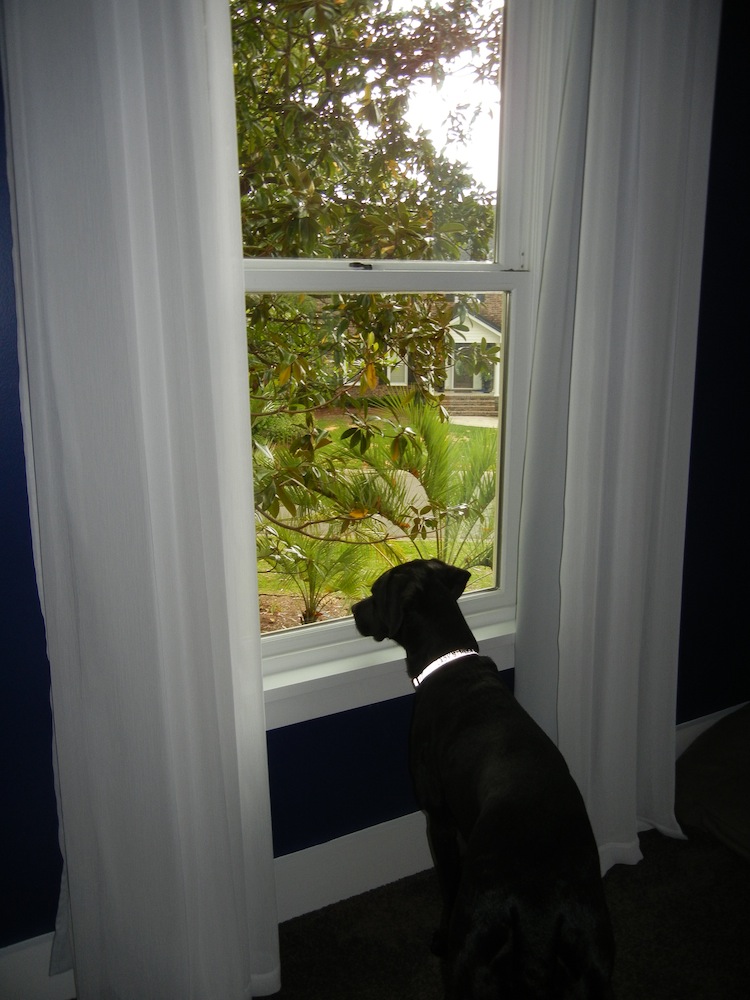 The simple answer was and is: YES! A couple of different variables contributed to my revelation [read: curtain enlightenment]. First, the number of options for modern, contemporary curtains has truly blown up in the last ten years. I remember searching for curtains for my college dorm room at Target, and getting really excited that they had brightly colored, solid panels. These days, I would call that the absolute basic selection. Second, the direction in which modern design is moving is toward simplicity. This plays a key role in being able to use simple [read: more economic] curtain panels, styles and solids. You don't need 96 inches of paisley and floral anymore to "decorate" your room. You use your window as a blank canvas, and create visual interest throughout the room with fresh-cut or faux flora, a pop of interest in an accent pillow or a killer piece of art.
Another pleasant result of a move toward simplicity affects the style of curtains. When custom curtains doled out the true mark of a luxurious décor, part of their signature was in their composition. The elaborate patterns for valances and pleated panels really do require a master's touch, which translates into more expense, which also translates into more exclusivity. I'm not knocking custom curtains as a viable and, in certain situations, necessary vehicle for covering windows. I just didn't have the budget for it!
Speaking of budget, let's talk cost. Window coverings are expensive! It doesn't matter how you size it up. You can make them yourself, and your costs are materials and time. You can find them on sale. You can find them second-hand. There's almost never a truly cheap solution. I have five freakishly tall windows in my living room, which posed a real problem for home-girl-on-a-budget here. So, in an effort to save money, I thought I would just do wooden window shades instead of curtains. (A compromise to the original owners' blind/curtain combo.) $480 later (and that's with 30% off!), I found my shades to be great for privacy and light filtration, which was a big concern in that room, but they didn't evoke anything when I walked into the room. They still don't. They just exist.
[I'd like to note, that my husband, the pragmatist, maintains that window coverings are supposed to just exist. Ergo, all is right in the world, in respect to our shades. I note this for all my fellow design-prone home-girls and -boys, who live with pragmatic partners – I feel your pain!]
After the living room "incident," I decided to really look at, for the first time in a few years, the option of using curtains instead of shades or blinds or shutters in our new rooms. We already had plenty of vibrant color, and so my work was made easy, when I decided to just do a clean, fresh white solid. To my delight, I found the most beautiful white chiffon curtains at Target for $15 a panel. Decorative panels: check! Then, for the functionality of room darkening and privacy, I looked online, and found some lovely "white" – they ended up being a gray-blue color – blackout curtains on WestElm.com, which I was able to snag on sale for around $30 per panel at a size that was a bit too short for my windows. To remedy that deficit, I placed the decorative panels higher than normal, creating the illusion of overall height, and then used larger curtain rings to drop the blackout panel lower than normal. It sits just above the window opening, so that it's high enough to functionally block out light, but low enough to camouflage its shorter length. Utilitarian panels: check! I found some great hardware at HomeDepot.com, which I then painted to match the rest of the hardware in our rooms.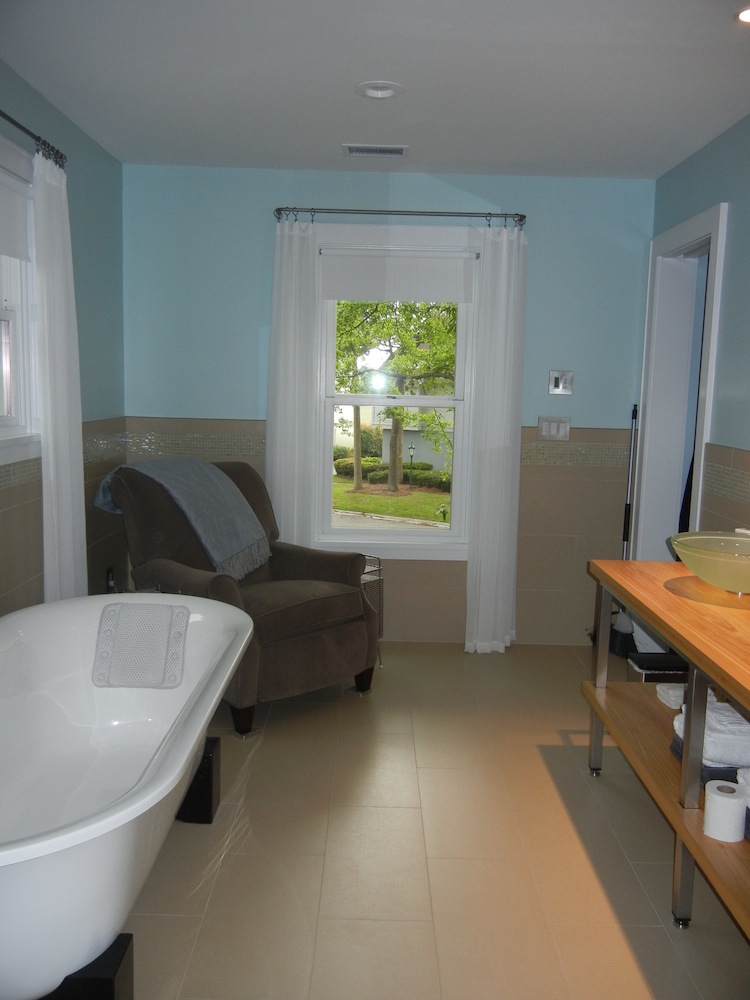 I wanted to limit the amount of fabric in the bathroom, so I opted to use shades in addition to the decorative panels, but the type of shades I used created the most memorable "aha" moment of the whole search. I grew up with them, and you might have too. They're white, they have the wind-up technology of a toy car, and they are dirt-cheap. For my modern, industrial bathroom, they also invoked a feeling of a simpler time. I found the winning pair, which you can have cut custom to fit your window specifications for $22 at JCP.com.
So, all in all, my bathroom window coverings of two panels, one shade, a curtain rod and curtain rings with clips cost $90 per window, and my bedroom ensemble of four panels, two curtain rods and curtain rings with clips cost $150 per window. To me a small price to pay for truly loving how my windows interact with the rest of the room. For the first time, since I started "making" homes for my family, I receive something from my window coverings, and they don't just exist. Gone are the days of an obstructed view and hanging cords. Gone are the days of my dogs' noses shifting the blinds out of alignment. Now, when the day begins, I open my room and my eyes to the world outside, and, at the close of the day, I simply close the world out and enjoy the many blessings I've been given inside my home.
I have a new view of curtains – an enlightened view, and I can't wait to find a curtain solution for all the rooms in my home. My husband, on the other hand, says that he can wait – indefinitely. We'll see how long it takes to convince the pragmatist that this curtain enlightenment is paramount to managing the window mischief in our home!